Bryant Gas Furnace Review
To check availability, call us at 1-800-360-1569 or visit our online store.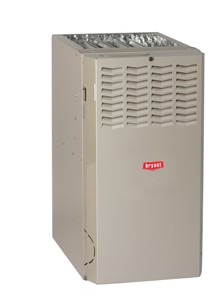 In 1904, a man named Charles Bryant founded a business he named the Natural Gas Regulator Company. This enterprise soon began began manufacturing gas fired water heaters, but, discontented with the company name, Bryant eventually decided to rechristen his operation the Bryant Heater & Manufacturing Company. This endeavor continues today and they are called Bryant Heating & Cooling Systems. Even though the name has changed a a few times, Bryant remains dedicated to the same tradition of quality and dependability that Charles Bryant started over one hundred years ago.
It may not have started out in the industry, but Bryant quickly became involved in the heating, ventilation and air conditioner market. For decades they been manufacturing air conditioner and furnace products designed to provide enjoyable air comfort in a variety of residential, commercial and industrial applications. For gas furnaces in particular, Bryant has an extensive product line that can meet any customer needs.
- The Preferred Line holds Bryant's most basic gas furnace models. They are available in either 80% or 90% AFUE, but the BTU production varies widely across the numerous models to meet variable customers needs. The preferred line also comes at a number of price points so as to appeal to as many people as possible. Customers may choose a 80% AFUE that puts out 44k BTUs and can be found for $1376 USD or they may opt for a 90% AFUE model that can produce an astounding 120k BTUs and is only $2036 USD.
- The Legacy Line features a diverse series of gas furnaces that can fit numerous residential and commercial needs. Models are either 80% or 90% AFUE and may produce from 66k to 132k BTUs. Cost also varies from around $1100 for the value-priced options to the sometimes as much as $1700 price tag for a top-of-the-line Legacy product.
- The Legacy and Preferred Lines are good, but the Evolution Line contains Bryant's premier gas furnace models. Evolution gas furnaces are available in either 80% or 90% AFUE and range from 66k BTUs to 154k. The lowest priced 80% AFUE unit is $1585 and a superb 90% AFUE model producing 120k BTUs can come in at $2783. The Evolution Line does average a higher cost than Bryant's other series, but they also feature superior design and advanced systems often well worth the added expense.
To check availability, call us at 1-800-360-1569 or visit our online store.