Bryant Evolution Series 19 SEER Heat Pump
To check availability, call us at 1-800-360-1569 or visit our online store.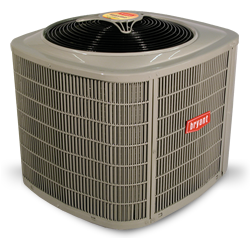 Every company has its premier model. Whether you're looking at the fastest Porsche or the most precise Rolex, what you want to make sure is if you're paying for the best that you are actually getting the best. Though it may not be as glamorous as something that screams down the Autobahn at 80 mph the heating, ventilation and air conditioner industry have models just as painstakingly engineered as the most advanced car on the road.
And like all those other HVAC companies, Bryant Heating and Cooling Systems has their own version of a sexy car: the Evolution Series 19 SEER 289B heat pump. The Evolution 289B might not have precise Swiss timing, but it does have a dual-stage scroll compressor that will let it hit its 19 SEER rating. A 19 SEER rating is engineer-speak that means, in English, the heat pump is going to save you a lot of money on your energy bill. A 19 SEER heat pump is among the most energy-efficient designs available in air-source heat pumps and is head-and-shoulders above any conventional units. If you're looking at a new heat pump, a 19 SEER is among the best you're going to find.
The Evolution 289B also supports Evolution Control, allowing you to fine tune your home's internal heating and cooling to exactly what you want. It can monitor humidity, support 7-day programming, be accessed via remote, and will even tell you when your filters are dirty. Yes, technology can be awesome sometimes.
Bryant wraps the whole package in a 10-Year Limited Warranty. That combined with routine maintenance by a certified technician and listening to your Evolution Control when it tells you the filter needs changing will mean the 289B heat pump can keep its 19 SEER rating working in your home for years to come. That means more money saved. Which means you can get that Rolex. Just don't expect it to be as smart as your heat pump.
To check availability, call us at 1-800-360-1569 or visit our online store.