Bryant Evolution Series 16 SEER Heat Pump
To check availability, call us at 1-800-360-1569 or visit our online store.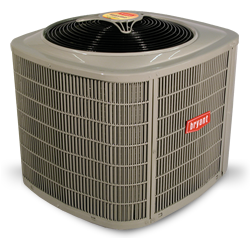 Every heating, ventilation and air conditioner company has a premier line of products designed for consumers who demand the best. Bryant Heating and Cooling Systems is no different and their Evolution Series Heat Pumps are for customers possessed of exacting standards. Bryant has purpose built the Evolution Series to provide the energy efficiency, quiet operation, and, all importantly, the heating and cooling that a certain sort of buyer demands.
In order to maintain a superior level of energy efficiency, the Evolution Series 16 SEER model 285B is equipped with a single-stage scroll compressor. Scroll compressors are an industry standard for heat pump efficiency and the Evolution Series 285B would not be able to hit its demanding SEER standard without it. That 16 SEER is the measure of how efficient this heat pump is. The Federal government mandates a minimum of 13 SEER on all new residential units. A 16 SEER surpasses that mark and will insure energy-efficiency and cost savings for the home owner year after year, especially as energy costs will likely continue to rise.
The Evolution 16 SEER heat pump also comes equipped with DuraGuard Plus protection intended to protect the unit from the wear and tear of inclement weather and exposure. The cabinet is of all steel construction and coated with powder-paint to fend off rust. The exterior coil is protected by a DuraFlow design to prevent foreign material from damaging the system. If something does make it through the protection and damage the heat pump, Bryant covers the Evolution 285B with a 10-Year Limited Warranty on parts. Provided the unit has been regularly maintained, that should be enough to deal with most issues an owner might experience.
The Evolution Series 16 SEER heat pump is a good choice for those looking to upgrade their aging heating and cooling system to a superior design. Over time, the Evolution heat pump will provide superior efficiency and cost savings for those who demand such.
To check availability, call us at 1-800-360-1569 or visit our online store.