Amana Energy Efficient Heat Pump Models
To check availability, call us at 1-800-360-1569 or visit our online store.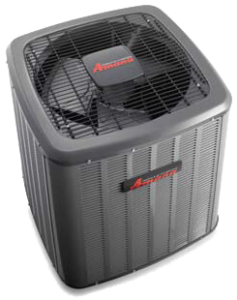 The heat pumps manufactured by Amana have been considered a reliable, efficient, and economic alternative to ensure the optimum comfort level of your home. Amana comes with a variety of heat pump models, among which its Energy Efficient heat pump models deserve a special note. Included in Amana's Energy Efficient models are ASZC18 and ASZC16 – each of them with its own specialties.
For example, Amana's ASZC18 offers a SEER rating up to 18 and HSPF of 9.5. As you know, the higher the SEER rating, the more efficient functioning will be. This heat pump serves as an excellent choice to save energy and keep the utility bills down. As the name suggests, ASZC16 has a SEER and HSPF of 16 and 9.5 respectively. Despite the varied SEER and HSPF ratings, the Energy Efficient model heat pumps' basic specifications remain the same. Some of the unique features of these models are:
Chlorine free R-410A refrigerant unit
Two-Stage Copeland UltraTech scroll compressor
Factory-installed filter dryer
Factory-installed high-capacity muffler
Factory-installed suction line accumulator
High- and low-pressure switches
Two-speed quiet condenser fan motor
Diagnostic indicator lights and storage of six fault codes
A key highlight of Amana's energy efficient models is that they are Comfort Net Communications System compatible. Additionally, these heat pumps are AHRI certified, and listed in the ETL.
With these amazing features, all of the heat pumps involved in Amana's Energy Efficient brand guarantee quiet, efficient, and long lasting performance. Above all, Amana Energy Efficient heat pump models are backed by outstanding warranties in the form of lifetime warranty on compressor and 10 year parts limited warranty.
To check availability, call us at 1-800-360-1569 or visit our online store.