Amana ASXC18 Air Conditioner Review
To check availability, call us at 1-800-360-1569 or visit our online store.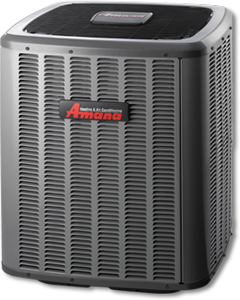 The ASXC18 is a highly energy efficient air conditioner introduced by Amana – one of the leading names in the industry for top quality home appliances. It offers a SEER (Seasonal Energy Efficiency Ratio) of 18. The higher the SEER rating, the more efficient will be the functioning of your air conditioner. In fact, the installation of ASXC18 is a perfect alternative to combat the hot months of summer while significantly cut down the energy bills.
As a top of the line air conditioner, the ASXC18 air conditioner is incorporated with a number of advanced features, the prominent being R-410A refrigerant unit, which in turn is chlorine free and environmental friendly. Another great thing regarding R-410A refrigerant unit is that it enhances the durability of compressors. Further, this air conditioner promotes for a quieter performance, with its acoustically engineered systems that consist of a compressor sound-reduction cover made of high-density foam and unique sound-control top. The high end features of Amana ASXC18 air conditioner also include:
Copeland two-stage Ultratech scroll compressor
5mm SmartCoil condenser coil
ComfortNet™ Communicating Systems compatible
Factory installed filter dryer
Louvered cabinet made of heavy-gauge galvanized steel
High and low pressure switches
Coil and ambient temperature sensors
Apart from these, the ASXC18 has been listed on the ETL and its performance has been certified in accordance with the AHRI (Air Conditioning, Heating and Refrigeration Institute). Backed by attractive warranty options that include a lifetime replacement warranty on the compressor plus a 10-year warranty on other components, this air conditioning system is eligible for the Energy Star rating.
To check availability, call us at 1-800-360-1569 or visit our online store.