Amana APH1543M Packaged Heat Pump
To check availability, call us at 1-800-360-1569 or visit our online store.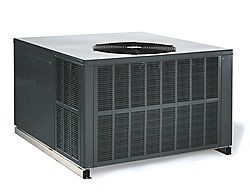 If you need up to 40,000 BTUs of heating and cooling power, then you might be interested in the Amana APH1543M Packaged Heat Pump. Like all Amana packaged heat pumps, the APH1543M is made of high quality components and designed to deliver plenty of warmth in winter and cooling in summer. While it's doing that, the packaged heat pump will also likely reduce your overall energy consumption, since it is far more energy efficient than many traditional air conditioners and gas furnaces. Especially if you are upgrading from an outdated system or energy is particularly expensive where you live, an air-source packaged heat pump like the APH1543M can really save you money on your seasonal electric bill.
Excellent engineering and quality components allow this packaged heat pump to do what it does. It uses an energy efficient compressor with internal relief valve to provide heating and cooling while only requiring a fraction of the power of your old system. It uses only R-410A chlorine-free refrigerant, a hydrofluorocarbon gas that won't damage the ozone layer, and is equipped with a powerful ECM blower motor to keep the system running smoothly. A heavy gauge galvanized steel cabinet and louvered condenser coil protect the system from the elements and damaging foreign particulate.
Amana's great warranty protection also helps protect the packaged heat pump from unanticipated problems. They're so confident in the quality of their energy efficient compressor that they cover it with a Lifetime Warranty. They also give you a 10 Year Limited Warranty on other parts. That's serious protection that show just how much faith Amana has in the APH1543M Packaged Heat Pump.
To check availability, call us at 1-800-360-1569 or visit our online store.