Amana APH1536M Packaged Heat Pump
To check availability, call us at 1-800-360-1569 or visit our online store.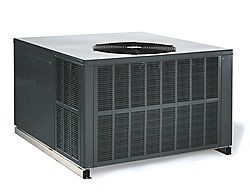 Amana manufactures a number of heating, ventilation and air conditioner products and has several packaged heat pump offerings. They offer 15 SEER models available in various tonnages and the APH1536M 3.0 Ton model can produce up to 34,500 BTUs. In case you don't know, BTU stands for British Thermal Units and in North America is used to measure the heating and cooling power of HVAC systems. 34,500 BTUs is a lot of heating and cooling power and likely more than you will need. Also, a packaged heat pump like this Amana unit will deliver that power far more efficiently than your traditional air conditioner.
You probably realize that air-source packaged heat pumps like the Amana APH1536M can deliver both heating and cooling, but what you may not know is how they do that and do it with superior efficiency. Heat pumps work similarly to regular air conditioners, but heat pumps are fitted with a reversing valve that allows them to cycle their operation backward to provide heating in addition to cooling. Modern air-source heat pumps also use state-of-the-art compressors to provide superior energy efficiency. Unlike old air conditioners, Amana heat pumps also use R-410A refrigerant. That is a chlorine free gas that won't deplete the ozone layer.
The APH1536M Packaged Heat Pump also comes with great warranty protection. It has a Lifetime Warranty on the compressor and a 10 Year Limited Warranty on parts, so if you have an unexpected breakdown you are covered. Energy efficiency and great warranties make this Amana packaged heat pump a solid choice if you are in the market to upgrade your home HVAC system.
To check availability, call us at 1-800-360-1569 or visit our online store.