Amana APH1530M Packaged Heat Pump
To check availability, call us at 1-800-360-1569 or visit our online store.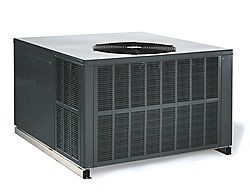 The 2.5 Ton APH1530M is part of Amana's line of packaged heat pumps designed to provide energy saving heating in winter and cooling in summer. This packaged heat pump is a 15 SEER and 8.0 HSPF unit. That means it gets solid energy efficiencies in summer and winter and will likely reduce your energy bill year round. Heat pumps are some of the most energy efficient home dual heating and cooling units available. They allow you to do away with a separate gas furnace and air conditioner, simplifying your residential HVAC arrangement, then they save you money.
This packaged heat pump does what it does through its high quality internal components. It is fitted with an energy efficient compressor with internal relief valve to maintain operational effectiveness and maximum usage of the refrigerant. The refrigerant itself is R-410A, chlorine-free and environmentally friendly hydrofluorocarbon gas designed to non-ozone depleting. The heat pump also uses an ECM blower motor, a liquid-line filter drier and louvered condenser coil protection. The entire package is also protected by a heavy gauge galvanized steel built to protect it from inclement weather and damaging foreign particulate.
Amana protects this packaged heat pump with more than just steel. They also cover it with real warranty protection to keep you from having to pay out of pocket if something goes wrong. There is a Lifetime Warranty on the energy efficient compressor, the most critical part of the system. There is also a 10 Year Limited Warranty on other parts.
To check availability, call us at 1-800-360-1569 or visit our online store.