A Brief History of the Ruud Manufacturing Company
To check availability, call us at 1-800-360-1569 or visit our online store.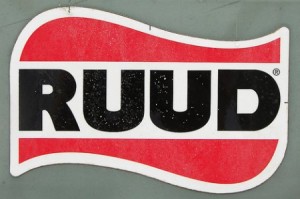 What is it with Norwegians and HVAC? Not only was the Trane company founded by a Norwegian, but so was the Ruud Manufacturing Company. In the late 19th Century, a mechanical engineer named Edwin Ruud emigrated to the United States and started working for George Westinghouse's company in Pennsylvania. There, Ruud perfected one of the first popular water heater models and Westinghouse began production.
Edwin Ruud, however, was not content to be a company man and had aspirations of his own. He purchased the rights to his inventions from Westinghouse and in 1897 organized his own company to manufacture his water heater design. Ruud would continue to perfect his water heaters and build his company on sound engineering principles and solid design.
By the 1950s, Ruud was a well established American water heater manufacturer with a national distribution network and a proven track record. It expanded into the domestic air conditioner market just in time to be purchased by the then rapidly growing Rheem Manufacturing Company. Rheem kept the Ruud name and used the already solid connections the company had made to become a major player in the HVAC industry.
Today, Ruud still manufactures a variety of products for residential, commercial and industrial uses. It is an international company headquartered in Atlanta, Georgia, but also has offices across the United States, Canada and Australia. The Ruud brand has over a century of recognition behind it and will likely continue to be a part of the HVAC industry for some time to come.
To check availability, call us at 1-800-360-1569 or visit our online store.