A Brief History of the Carrier Corporation
To check availability, call us at 1-800-360-1569 or visit our online store.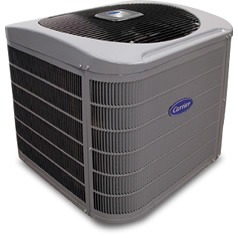 Owned by the United Technologies Corporation, the Carrier Corporation is the world's largest manufacturer of air conditioners, heaters, and ventilation systems. It is the prime leader in the HVAC industry and the model by which every other HVAC company is measured. Carrier provides work for over 40,000 people in dozens of countries on every continent except Antarctica and its worth is estimated at a colossal $12.5 billion dollars, a value greater than the GDP of some of the countries it operates in.
In many ways, Carrier started the modern air conditioning industry as the company founder, Willis Carrier, created the first real, working air conditioner in 1902. The business would continue with mixed success until after after the Second World War. By the 1950's, the market was ripe for air conditioners especially with a growing market in the arid and hot American southwest. Carrier was poised to take advantage of this development and business boomed.
Previously based out of New Jersey and later New York, today, Carrier runs its main operations from a headquarters in Indianapolis, Indiana and has manufacturing plants across the United States, most notably in Collierville, Tennessee and Tyler, Texas. It owns rights to numerous heating and air conditioner brands including Bryant, International Comfort Products, Tadiran, Comfortmaker, Transicold, Totaline, Linde Refrigeration, Magic Aire, Payne, and Micro Thermo Technologies.
Carrier continues to be major part of the modern heating, ventilation, and air conditioning industry. It produces components for every part of an HVAC residential or commercial system and seems poised to continue to be the industry's main motive force for the foreseeable future.
To check availability, call us at 1-800-360-1569 or visit our online store.