A Brief History of Goodman Global
To check availability, call us at 1-800-360-1569 or visit our online store.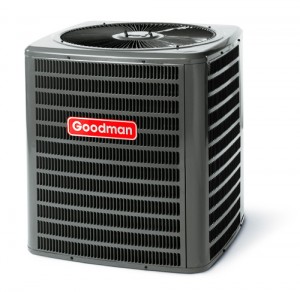 Like much of the impetus behind the modern air conditioner industry, Goodman Global found its start in the hot weather of the American southwest. Harold V. Goodman lived in the city of Houston in 1954 and found work as an air conditioning contractor. As the American economy of the 1950's continued to boom, so did Goodman's business and eventually he decided to expand.
In 1975, Harold V. Goodman founded the Goodman Manufacturing Company and started producing air conditioner components like plastic blade registers and air ducts. The business proved so successful that Goodman was able to expand again in 1982. By then he had acquired a warehouse in Houston and ownership of a failing air conditioner manufacturing company. Goodman transported the industrial machinery to his new Houston plant, hired workers, and began producing his own brand of air conditioners and heat pumps.
Goodman Manufacturing grew again in 1997 when it bought Raytheon Appliances. In 2001, the company further dedicated itself to the heating, ventilation, and air conditioner industry when it spun off its home appliance business in a sale to Maytag.
Change was in the air again in 2004. The private equity firm Apollo Management made Goodman an offer, which was accepted, and bought the entire company for about $1.43 billion dollars. Goodman continued to grow and in 2007 attracted more interest. Another private equity firm, this time Hellman & Friedman in San Francisco, offered to buy the company for $1.8 billion. The deal went through and today Hellman & Friedman continue to be the owners of Goodman Global.
Throughout its years of success, the company has worked hard to stay true to Harold V. Goodman's founding maxims: High quality at low cost equals value. Maintain low overhead. Create products that are engineered for reliable long life, utilizing the best components with some of the lowest failure rates in the industry. Offer some of the best limited warranties in the industry.
Despite the various owners, Goodman Global seems dedicated to these proverbs. So, as they say, "Thank goodness for Goodman."
To check availability, call us at 1-800-360-1569 or visit our online store.