A Brief History of Bryant Heating & Cooling Systems
To check availability, call us at 1-800-360-1569 or visit our online store.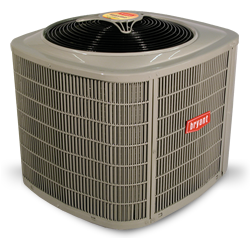 1904 was an auspicious year. French's mustard debuted at the World Fair, Shibaura Engineering Works in Japan would begin its path toward becoming Toshiba, and in unassuming Cleveland a man named Charles Bryant would found a business he called the Natural Gas Regulator Company. Mr. Bryant and his company began manufacturing gas fired water heaters, but, discontented with the company name, eventually decided to rechristen it the Bryant Heater & Manufacturing Company. Thus did the modern corporation called Bryant Heating & Cooling Systems get its start.
Throughout the first half of the 20th Century, Charles Bryant's little company grew to be a major producer of gas boilers and by the 1930's held the lion's share of the US market. In 1930, Bryant would become involved in the burgeoning commercial air conditioner market and in 1933 was acquired by Dresser Industries. This would not stop Bryant innovation, however, as in 1937 the company put the Dualator, a unit that heated and cooled, out in front.
The Dresser acquisition was only a hint of things to come. Bryant would buy itself out of Dresser ownership by the 1950's, but in 1955 was acquired by the Carrier Corporation. In 1975, Carrier rolled Bryant into the BDP Company before itself being acquired by United Technologies Corporation. As before, these ownership changes did not slow Bryant's production as Bryant was still the largest gas air conditioner producer in the country and became a major furnace manufacturer at the same time.
In the modern era, Bryant continued its pioneering spirit by being among the first to discontinue use of ozone-depleting refrigerants even before mandated by law. Bryant's eco-friendly refrigerant gas, Puron, would become a major key to Bryant's heating and cooling ideology, and is still in use today. Not being content with just Puron, Bryant led the way into packaged air conditioner/heat pumps and helped push the market into the current growing obsession with air-source and ground-source heat pumps as a green alternative to traditional units.
It's unlikely Charles Bryant had any idea what an industry leader he would create in 1904. Over the years, Bryant has proved itself as a major heating and cooling industry leader with a constant eye towards innovation and progress. Bryant remains a major HVAC system producer and shows no sign of letting up any time soon.
To check availability, call us at 1-800-360-1569 or visit our online store.