3000 Wood Stove
To check availability, call us at 1-800-360-1569 or visit our online store.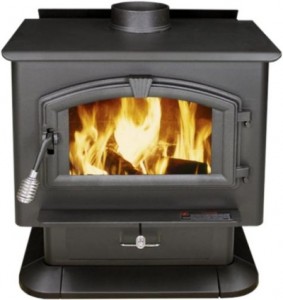 Despite all our advances in modern science, a wood stove might still be one of the best methods for getting reliable heat throughout your home during a cold winter. US Stove, one of America's oldest HVAC manufacturers, still produces a series of dependable wood stoves after starting their business over a hundred years ago in New York state. US Stove thinks there is a lot to be said for wood stoves and they're convinced that with their newest line of products they can get you to feel the same way.
The 3000 Wood Stove is one of the most powerful US Stove heater products and can produce reliable heating power while only being dependant upon wood blocks. This US Stove heater can produce up to 123,000 BTUs (British Thermal Units) to warm up to 3000 square feet. This is also one of the only wood stoves in the country approved for use in mobile homes. It is EPA Certified in all states and produces only 1.9 grams of particulate per hour which makes it one of the cleanest on the market.
The 3000 Wood Stove also includes a glass door so that you can enjoy the ambiance provided by the beauty of a crackling flame. The interior is firebrick lined and US Stove gives you a quiet 150 CFM blower to keep the warm air moving. For clean up, there is a large ash pan with cast iron ash plug that makes the job easy. So, if you think a wood stove might be what you need for your home, think about installing a fine US Stove heater like the 3000 Wood Stove.
To check availability, call us at 1-800-360-1569 or visit our online store.