2500 Wood Stove
To check availability, call us at 1-800-360-1569 or visit our online store.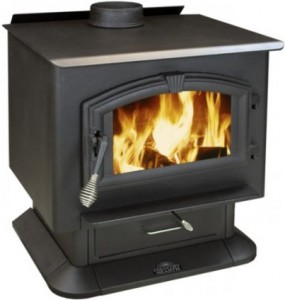 A US Stove heater like the 2500 Wood Stove can provide your home with the luxuriant warmth only wood-burning heat can create. The 2500 is a steel plate stove that, when properly installed, can heat your entire house. This can be a very cheap method of getting cold weather heating especially if you chop your own wood or have easy access to substantial supplies. Of course, even if you have to buy the wood you will still have a heating bill competitive with fuel oil that only seems to increase in price year over year.
With the 2500 Wood Stove you also don't have to worry about inadequate heating. This efficient heater can produce up to 112,000 BTUs and is equipped with a 100 cubit feet per minute blower to disperse it in an area measuring up to 2,400 square feet. Best of all, sometimes a winter storm can knock out power for hours or, if there is ice coating the lines, sometimes days, but with a US Stove heater like the 2500 you don't have to worry. This stove is perfectly capable of operating and keeping you warm without electricity.
The 2500 Wood Stove is also well built to do its job. It features a firebrick lined interior to increase combustion efficiency and durability. Your family will like the air washed glass door allowing them to enjoy the beautiful display only a wood stove can provide. You'll like the large ash pan that makes clean up a cinch and that the 2500 is EPA certified for home use. Contact a US Stove representative or certified dealer today to see how you can get a hold of this great US Stove heater product.
To check availability, call us at 1-800-360-1569 or visit our online store.