2421 Wood Stove
To check availability, call us at 1-800-360-1569 or visit our online store.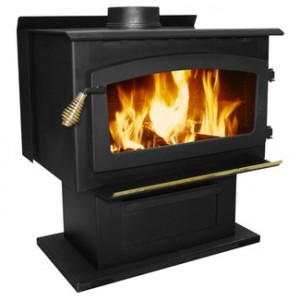 There are a lot of US Stove heaters designed to provide ample warmth during the worst winter chills and the 2421 model wood stove is no different. It has a pot belly shape that would look quite at home in an Old West saloon, but that belies its modern design features. The 2421 wood stove is made of cast iron and features a built-in damper and two-piece safety handle. It would make a great addition to any exterior garage, workshop or other space that could use durable heating.
The 2421 wood stove is also a great option for the outdoorsman who sets up his bivouac in a rustic cabin. Since the 2421 is a wood stove, you don't need an electric supply to fuel it which makes it perfect if you have a hunting lodge far from civilization where power lines do not reach. In such a situation, this powerful wood stove will pump out all the heating power you need, up to 1600 square feet, and that will allow you to keep up your favorite hobby even in the depths of winter. Also, this US Stove heater product also equips two lift out cook lids. That means you have an easy way to cook up whatever wild game you bag on your trip.
Of course, even if you aren't a hunter, you'll probably like the economic pricing of this US Stove heater especially if you have access to a ready supply of wood. That combination equals a very cost effective heat source to endure cold weather without breaking your bank account to do it.
To check availability, call us at 1-800-360-1569 or visit our online store.