2007B Wood Stove
To check availability, call us at 1-800-360-1569 or visit our online store.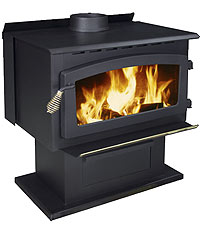 If you'd like to get all the charming ambiance and luxuriant warmth of a traditional fireplace without costly remodelling, then a wood stove is what you're looking for. These modern incarnations of classic technologies can provide you with satisfying warmth distributed throughout your house alongside Old World charm and, with the rising cost of energy, might even save you a few dollars at the same time.
The 2007B Wood Stove from US Stove is a solid example of what the best modern wood stoves can do. US Stove is an old American manufacturer, but dedicated to the best current technologies have to offer. The 2007B uses a state-of-the-art interior firebrick lining that improves heating efficiency while at the same time increasing this already durable stove's operating lifespan. This allows you to produce up to 103,000 BTUS of heat that will warm up to 1,700 square feet of space. Depending on the size of your home that might be all you need or just great supplementary warmth on winter's coldest days.
The 2007B Wood Stove was also designed with convenience and comfort in mind. The access door is made of air wash glass which means you get to enjoy the beauty of a crackling fire. Clean up is always a concern with any solid-fuel burning machine, but this US Stove heater makes it easy with an ash drawer located in the pedestal for simple removal and disposal. You'll also like the cool-to-the-touch coil handle that makes this stove a safe heater for your home. Ask a certified US Stove heater representative today about the 2007B Wood Stove. You'll be glad you did.
To check availability, call us at 1-800-360-1569 or visit our online store.