2000 Wood Stove
To check availability, call us at 1-800-360-1569 or visit our online store.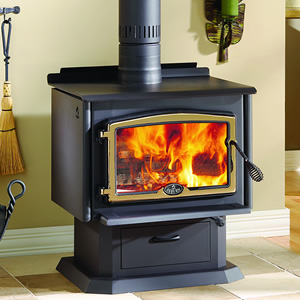 The Environmental Protection Agency enforces stringent requirements upon HVAC manufacturers when it comes to the production of wood-burning stoves and furnaces. These machines have to meet air particulate standards in order to satisfy the EPA's protocols. These are in place to insure consumer safety, but also prevent a return to the smoke-clogged cities of the late 19th century caused in part by burning wood as a fuel.
Luckily, modern technology and a better understanding of thermodynamics has allowed reputable HVAC companies like US Stove to produce wood stoves that burn cleaner and with less pollution than ever before. One such example is the 2000 Wood Stove, one of US Stove's heaters that use wood as a fuel and meet the stringent EPA guidelines. In fact, the 2000 Wood Stove is such an efficient and safe burner of wood that it is even approved for use in mobile homes, an even harder requirement to satisfy. The 2000 even meets individual California and Washington state guidelines which are as arduous as EPA stipulations. With all these hoops the 2000 Wood Stove is jumping through you can be sure it is one of the best wood stove models available.
It's certainly made well enough to qualify for all these standards. It is crafted from plate steel and the interior is lined with firebricks for long life and efficiency. The access door uses an air wash glass plate to give you a clean view of what's happening inside. The 100 CFM blower also allows you to use the 89,000 BTUs the stove produces to warm up to 2,000 square feet. All in all, the 2000 Wood Stove is a great example of US Stove heaters and can do everything you'll need it to for meeting your family's air comfort need.
To check availability, call us at 1-800-360-1569 or visit our online store.