1261 Wood Stove
To check availability, call us at 1-800-360-1569 or visit our online store.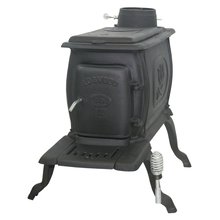 If you are looking for a dependable heater for your garage, workshop, lakeside cabin or hunting lodge, then you should probably consider a wood stove. Wood stoves like those manufactured by US Stove can give you the heating comfort you want, at a price you can afford and with a fuel source that, in most cases, is either reasonably priced or free. That means you will be able to get year round use out of the area you plan to heat without putting out the money you otherwise would have to for a conventional gas furnace or conventional electric heater.
US Stove heaters are dependable products perfected over long decades of operation. The 1261 wood stove in particular is a great model that is priced to fit within most budgets. The 1261 is made of heavy duty cast iron and compact enough to accommodate most locations. It has a built in damper, a six inch flue collar, two lift out cook lids for convenient cooking, and a two piece safety handle to prevent burning. Meanwhile, it will also produce all the warmth you want. The 1261 can create up to 54,000 BTUs and is rated for up to 900 square feet of performance.
Of course, one of the best parts of investing in a US Stove heater like the 1261 wood stove is that this device is almost never going to wear out. Cast iron is one of the most durable metals available to us and chances are good that this wood stove will last your life time and a lot longer than that. Meanwhile, it won't lose efficiency and probably won't breakdown. Wood stove technology is about as perfected as it gets and that's dependability you can really count on. So, before you spend a lot of money on a conventional unit think about what the time-tested technology of a US Stove heater can do for you.
To check availability, call us at 1-800-360-1569 or visit our online store.